Liquid Blue is as dedicated as ever to providing you with the highest quality service and merchandise.
Shop early!
The sooner you can place your order, the sooner you can receive it. If you absolutely need your order by a specific date, please review the order processing and shipping time information provided below.
Make sure it's in stock.
If you'd like to make sure that we have what you need, please send us an email or give us a call at 1.866.450.2583 9AM to 5:30PM Eastern Time, Monday through Friday, to check on product availability.
For more information, please review our policy regarding out-of-stock items below.
Be prepared!
If you call to check on product availability, to check the status of an order, or to place an order by phone, please have all the relevant product numbers, order number, and payment information ready before you call.
Avoid common mistakes.
Most of the problems we encounter when processing orders are caused by incorrect information entered during checkout. Before you submit your payment information, double-check your credit card number and expiration date.
Also, make sure the billing address you've entered is where your credit card is registered - it's usually the address where your credit card statement is sent. You can always have your order sent to a separate shipping address, but we must be able to verify your address information before we can ship your order.
Follow up: Check your email!
Once we ship your order, we'll send you an email with a tracking number for your order.
However, if we have any problems processing your order, we will send an email notice to the address you used to set up your account. To avoid delays, we strongly encourage you to check your email at least once a day after placing your order, and to respond as necessary at your earliest convenience.
PLEASE NOTE: Since some email providers filter our notification emails as spam, we recommend checking your spam folder as well.
When will my order be processed?
All Orders Ship Same Day or Next Business Day.
Exclusions apply: For orders containing products by The Mountain, please allow an additional 2 to 3 business days processing time. Orders placed on Saturday and Sunday will be processed the following Monday; Orders placed after 9AM Monday will ship on Tuesday.
When will I receive my order?
Delivery time for USPS Priority Mail is 2 to 3 business days after date of shipping. Some Priority Mail shipments may take up to 5 business days. Delivery time for UPS Ground varies by destination. Please refer to the map below for an estimate of your delivery time. UPS Next Day Air and 2nd Day Air are available for faster delivery. Delivery times are given in full business days. The date of shipping is not included in your delivery time. Saturdays, Sundays, and holidays are not included in your delivery time.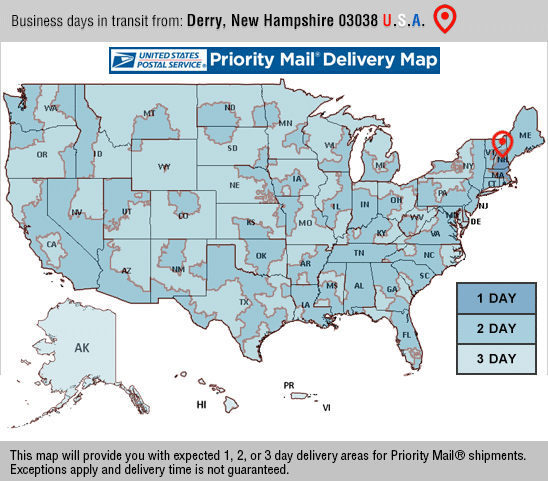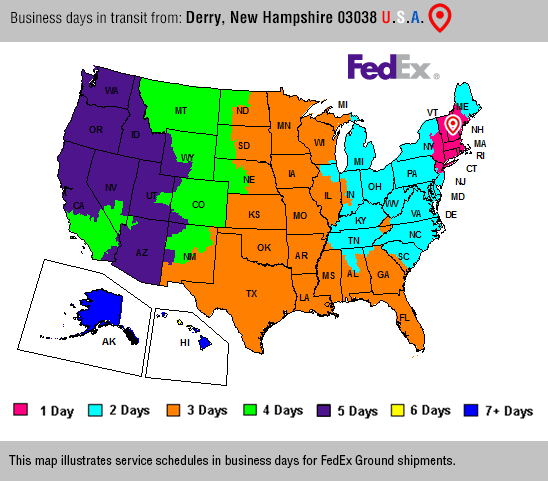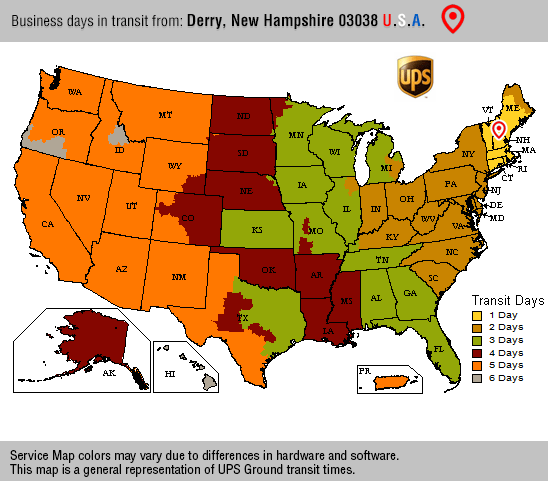 International Customers:
Please allow an additional 1 to 2 business days processing time. All international orders are shipped via USPS International Prioity Mail with an estimated delivery time of 6 to 10 business days. Due to possible delays from customs and your local postal service, we cannot guarantee delivery time for international shipments. To view our terms and conditions on international orders and the list of eligible countries, click here.
What if an item I ordered is out of stock?
At Liquid Blue, we consider the prompt shipping of your order to be our highest priority. Unfortunately, we cannot guarantee stock on all items ordered. Please email or call 1.866.450.2583 9AM to 5:30PM Eastern Time, Monday through Friday, to check on product availability before placing your order.
If any items on your order have sold out, we will cancel those items from your order and adjust the price of your order accordingly. All other in-stock items will be shipped.
If your order is completely out of stock, we will send you an email to notify you, and your order will be cancelled.
PLEASE NOTE: Liquid Blue can only process orders for in-stock items; Liquid Blue does not offer pre-ordering or back-ordering. Out-of-stock items will NOT be shipped at a later date. To re-order unshipped items, please call 1.866.450.2583 from 9AM to 5:30PM Eastern Time.
How do I return or exchange an item?
Liquid Blue does not offer prepaid return shipping labels or envelopes. You are responsible for shipping any returned merchandise to Liquid Blue. If you need to return an item because of our error, such as an incorrect or defective item, Liquid Blue will reimburse you for the cost of return postage once your return is received. All exchanges are subject to a $5.00 shipping fee unless caused by our error. We are not responsible for any items returned without an Order ID number.
Request a Return / Excahnge
Liquid Blue is committed to providing our customers with the best quality service and merchandise. If you are not satisfied with your order, please submit a Return Request using your LiquidBlue.com account or calling 1.866.450.2583 from 9AM to 5:30PM Eastern Time.
To Request a Return
While logged into your LiquidBlue.com account, click the "My Account" link, then select the "Completed Orders" option. Then, click the "Return Item(s)" button next to the order containing the items you want to return. After you submit the Return Request form on the website, your request will be sent to us for review. You will receive a response to your request by email.
Liquid Blue Return Policy
NO HIDDEN FEES
Liquid Blue does not charge any return or restocking fees. In the event of a merchandise exchange, any replacement items will be shipped by Liquid Blue free of cost.
90 DAY RETURN PERIOD
Returns must be requested within 90 days of the original order date. Returns requested within 30 days will qualify for a refund to the original payment method. Returns requested within 90 days will qualify for store credit or merchandise exchange. Returns requested after 90 days will not be accepted.
PRODUCT CONDITION
Returned merchandise must be in original condition. Liquid Blue will not accept for return any item that has been worn, used, washed, altered, or damaged by the customer. If a significant product defect occurs within the first 30 days of normal use, Liquid Blue may offer a refund or replacement for the defective product.
U.S. ORDERS ONLY
Only orders shipped within the United States are eligible for return. All sales are final for orders shipped outside the United States. Sorry, no returns for international orders.
RETURN SHIPPING
The customer is responsible for returning merchandise to Liquid Blue. If the return is required because of a product defect or an error in order processing, Liquid Blue will provide a prepaid shipping return label via email.
GIFT RETURNS AND EXCHANGES
Liquid Blue can only accept returns of items ordered directly from LiquidBlue.com. Merchandise purchased from other vendors cannot be returned to Liquid Blue.
Returning your items to Liquid Blue
Once your Return Request has been approved, you can proceed to ship your items back to Liquid Blue.
Please include your Return ID number and a copy of your packing slip with your return. If you do not have your packing slip, you can include a printed copy of your order confirmation email. If you would like to exchange for other merchandise, please include a note indicating the products and sizes you would like in exchange.
Address your return shipment to:
LiquidBlue.com
Retail Returns Department
One Crownmark Drive
Lincoln, RI 02865
For return shipping, we recommend using U.S. Postal Service, which is often the most cost effective option for low-weight packages. UPS Ground service is usually more cost effective for larger packages (over 4 lbs). Please consider tracking your package and insuring larger returns.
Once returned to Liquid Blue, your return will be processed. Please allow 7 to 10 business days for your return to be processed.
We Appreciate Your Business
For additional assistance with your return, please contact Us by email at retail@liquidblue.com or by phone at (866) 450-2583 between 9:00 AM and 5:30PM Eastern, Monday through Friday.