DIVER [11833]
PINK FLOYD
TIE-DYE
T-SHIRT
By the time the Wish You Were Here album came out in 1975, Storm Thorgerson was a name fans were very familiar with. He was not only a friend and confidant to David Gilmour and Roger Waters, he was an avant-garde artist and a true collaborator to the band's conceptual direction. This Pink Floyd T-shirt features the famous Diver inner album artwork which has become a part of the Pink Floyd landscape.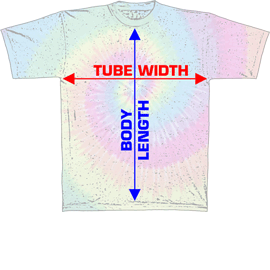 TIE-DYE T-SHIRT
Made of 5.6 oz. heavyweight (before dyeing), 100% cotton garment; 2 needle stitched neck, taped shoulders for strength and comfort.

SIZE
TUBE
WIDTH*
BODY
LENGTH*
2T
11.7''
11.7''
3T
13.0''
12.5''
4T
14.0''
13.5''
YOUTH-SMALL
14.5''
14.0''
YOUTH-MEDIUM
16.5''
16.0''
YOUTH-LARGE
17.0''
18.0''
YOUTH-XLARGE
19.0''
21.5''
SMALL
19.5''
22.0''
MEDIUM
22.0''
23.0''
LARGE
23.0''
24.0''
X-LARGE
25.0''
25.5''
2X-LARGE
25.5''
26.5''
3X-LARGE
26.0''
27.0''
4X-LARGE
26.5''
28.0''
5X-LARGE
27.0''
28.5''
6X-LARGE
28.0''
29.0''
7X-LARGE
37.5''
31.5''
8X-LARGE
38.5''
32.0''
LS-LARGE
23.0''
24.0''
LS-XLARGE
25.0''
25.0''
LS-2XLARGE
25.0''
26.5''
When will my order be processed?
All Orders Ship Same Day or Next Business Day.
Exclusions apply: For orders containing products by The Mountain, please allow an additional 2 to 3 business days processing time. Orders placed on Saturday and Sunday will be processed the following Monday; Orders placed after 9AM Monday will ship on Tuesday.
When will I receive my order?

Delivery time for USPS Priority Mail is 2 to 3 business days after date of shipping. Some Priority Mail shipments may take up to 5 business days. Delivery time for UPS Ground varies by destination. Please refer to
this map
for an estimate of your delivery time. UPS Next Day Air and 2nd Day Air are available for faster delivery. Delivery times are given in full business days. The date of shipping is not included in your delivery time. Saturdays, Sundays, and holidays are not included in your delivery time.
International Customers
Please allow an additional 1 to 2 business days processing time. Orders shipped outside the United States or Canada must be paid using a verified PayPal account.
All international orders are shipped via USPS International Prioity Mail with an estimated delivery time of 6 to 10 business days. Due to possible delays from customs and your local postal service, we cannot guarantee delivery time for international shipments. To view our terms and conditions on international orders and the list of eligible countries,
click here
.